In ihrem ersten Gastbeitrag «Antropología de la Parroquia Caruao» hat Yara Altez (Escuela de Antropología – Universidad Central de Venezuela) uns schon im September 2012 über das anthropologische Forschungsprojekt zur Pfarrkirche Caruao informiert. Im folgenden Text berichtet sie – dieses Mal auf englisch – über aktuelle Entwicklungen der Untersuchung. Interesse an internationaler Zusammenarbeit bzw. Hinweise aus der Forschung sind ausdrücklich erwünscht.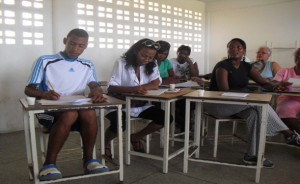 Anthropological research project on black communities: Antropología Caruao is carrying out the activities of a new initiative entitled: "La Sabana Local Memory Room" It's about developing a photographic museum with old photographs of the local families, in this case, the families of La Sabana, which is the head town of Caruao's parish, located in Vargas state, Venezuela.
To achieve the goals of the project we work with a team of anthropologists and anthropology students as well, and also the systematic support of the residents of the community. They receive training that enables them to take over and manage the experience once the Visual Memory Room is ready and opened.

Our team now has the participation of Spanish anthropologists: Damian Bretones, visual anthropologist and Soledad Oviedo, ethnographer.
We invite you, colleagues and professionals from other countries interested in participating with us in this experience; give us suggestions and references for similar projects. In case you are interested you may contact Yara Altez, Project Director: yara.altez@gmail.com and you are all invited to visit us at antropologiacaruao.wordpress.com.
PROYECTO DE INVESTIGACIÓN:
ANTROPOLOGÍA DE LA PARROQUIA CARUAO

http://antropologiacaruao.wordpress.com/
Adscrito a la ESCUELA DE ANTROPOLOGÍA
UNIVERSIDAD CENTRAL DE VENEZUELA